Like any other chat site, ChatGig says that they connect to strangers and you can do chat with strangers with one click.
Before starting how it works, let me tell you that don't click on fancy links they are connected to livecam.com, webcamguys.com, fuckspace.com, and internetmodeling.com.
Another important thing is that it is an online community for adults where people from all over the world connect with each other to chat.
They combine video chat with social networking to create a virtual party that never ends.
Who can use this site?
18+
ChatGig is only for 18+ adults.
Guest
Guests can visit and use the chat services but with limited features.
Member (Registered Users)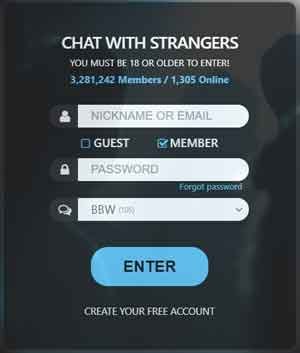 Registered Members can send private chat requests
Option to choose a nickname
Upload Videos
Can do sale
Can create Profiles
How it works – ChatGig
Now, you have to decide and select join as a guest or as a member. As a guest or member, you have to accept the terms & conditions then it will open the chat interface.
This screen is divided into three parts. 1. WebCam, 2. Rooms and 3. Members.
WebCam
You have the option to switch on your webcam and let strangers can see you here
Rooms
This screen will show you the rooms, and you can any room by just clicking on it. Rooms like a party, rate girls, champagne, fantasy, smoking lounge, BBW, Over 40, TS, and more.
Members
To view any of the guest webcams, you can select the member and you can see his/her.
Googly for Guest
ChatGig.com interface is good. But there is googly for guest members. GUEST CAN'T SEND A MESSAGE without registration. whenever they try to send a message it will ask for registration.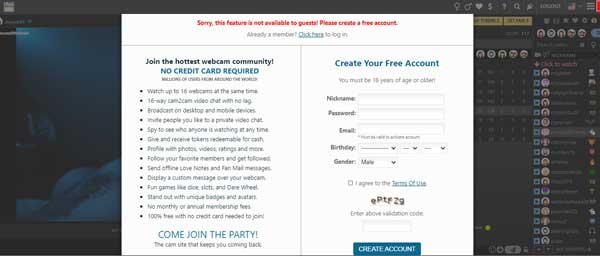 Member Features
Join the hottest webcam community! NO CREDIT CARD REQUIRED
MILLIONS OF USERS FROM AROUND THE WORLD!
Watch up to 16 webcams at the same time.
16-way cam2cam video chat with no lag.
Broadcast on desktop and mobile devices.
Invite people you like to a private video chat.
Spy to see who anyone is watching at any time.
Give and receive tokens redeemable for cash.
Profile with photos, videos, ratings, and more.
Follow your favorite members and get followed.
Send offline Love Notes and Fan Mail messages.
Display a custom message over your webcam.
Fun games like dice, slots, and Dare Wheel.
Stand out with unique badges and avatars.
No monthly or annual membership fees.
100% free with no credit card needed to join!
Background
ChatGig is using Cam Media services for chat. Cam Media specializes in delivering high-quality live and recorded videos through the Internet. They help businesses and website owners harness the power of online video by developing customized cross-platform solutions specific to their needs.